Geography professors Suárez (UCSB Geography Alum), Gaertner named TRELIS Fellows
Brandi Gaertner (left) and Marcela Suàrez, assistant teaching professors in Penn State's Department of Geography, have received fellowships to attend the 2022 Training and Retaining Leaders in STEM-Geospatial Sciences (TRELIS) workshop. 
August 9, 2022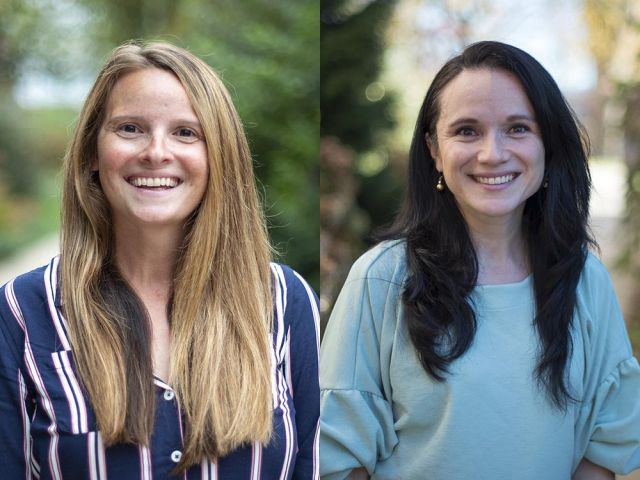 By Francisco Tutella
APRIL 11, 2022
UNIVERSITY PARK, Pa. – Two assistant teaching professors in Penn State's Department of Geography have received fellowships to a highly sought-after leadership development workshop for women educators in STEM and geospatial science.
Marcela Suàrez and Brandi Gaertner are among 15 female academics from across the United States chosen to attend the 2022 Training and Retaining Leaders in STEM-Geospatial Sciences (TRELIS) workshop. The four-day workshop focuses on building leadership capacity and skills to address career development, communication, conflict resolution and work-life integration.
This year's workshop will take place in Blue Mountain Lake, New York, and will include an event with members from the 2018, 2019 and 2020-21 cohorts. The fellows also will attend the University Consortium for Geographic Information Science (UCGIS) Symposium at Syracuse University, a three-day event immediately following the workshop.
"I feel very honored to be selected as a TRELIS Fellow from the prestigious UCGIS organization," said Gaertner, who studies climate change hydrology and geographic information science (GIS). "I'm excited to meet and collaborate with fellow female geospatial scientists."
Suàrez is also looking forward to networking with other female scientists and building community.
"I think belonging to a community really helps with your professional growth," said Suàrez, who studies GIS and its applications in emergency management. "When you meet another person who has already accomplished the things that you have dreamed of, you have the opportunity to ask her how she reached that level in her career and how she manages all her responsibilities. I always wanted to be part of a community where I could identify mentors and that could somehow help with my own experience."
Gaertner expects to gain valuable insights from the workshop and the scientists who will attend it, especially insights into navigating her roles as a teacher, mentor, mother and colleague.
"I believe this opportunity will allow me to become a more effective research mentor and leader, provide clarity on balancing work-life requirements, and allow me to develop a more efficient system for achieving my future career goals," she said.
Suàrez, who will soon take on her fourth graduate student mentee, would like to take away important time management strategies for balancing her teaching and advising duties with her research. She also views the workshop as a means of giving back to the geospatial community and to her students by providing them with more tools and resources for learning.
"I feel very honored and grateful to be named a Fellow," she said. "I think it's a big responsibility as well. The more opportunities you have, the more privileges you have — because in the end, it's a privilege to be here — the bigger the responsibility you have to become a changemaker and a positive force in your community."
Suàrez, who hails from Colombia, will have an additional opportunity to share her experience and develop leadership skills at The Golden Compass, a workshop for international women geospatial scientists in the United States. The workshop takes place in Denver about two weeks before the TRELIS workshop. TRELIS and UCGIS are two of the event's co-sponsors.
TRELIS is supported by the National Science Foundation and managed by a leadership team from the University of Maine, San José State University, the University of Colorado, the University of Southern California, Arizona State University, Tableau Software and UCGIS.