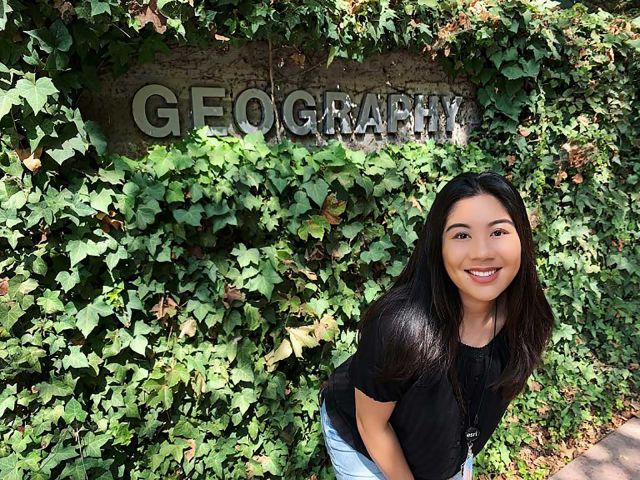 Undergraduate Spotlight: Julianne Lao Amores
Julianne Lao Amores is a 4th year double major in the Geography BA and the Communication BA.
Why did you choose the geography major?
I chose geography because it is one of the most diverse yet applicable majors on campus. It has both quantitative and qualitative aspects to it, which can be represented through physical geography, GIS, human geography, etc. In addition, the major opens many doors for career exploration in areas such as cartography, epidemiology, environmental planning, and much more which is listed on the UCSB Geography Department website.
What areas of geography interest you?
Spatial cognition is one of my biggest interests right now. In fact, before I came to college one of my goals was to conduct research at the university level. The Geography Department has given me the opportunity to fulfill my goals and become a Research Assistant (RA) for Professor Montello's Geographic Cognitive Lab where I manage two spatial cognition studies.
What have your favorite experiences in the major been?
My favorite experience with the major is debunking myths about Geography being a trivial discipline. Many people believe that Geography is simply knowing the capitals of every state in the United States, but in fact is so much more than that! Geography is earth science, remote sensing, geographic information (GIS), and much more.
What opportunities have you found through studying Geography?
Through my unique double major in Communication and Geography, I landed a summer internship as a marketing intern at Esri (Environmental Science Research Institute), which is the leading Geographic Information Systems (GIS) company. In addition, during my time at Esri I was even able to meet Jack Dangermond (CEO of Esri)!
Do you have any advice for other geography majors or people considering declaring the major?
My biggest advice is if you are debating on declaring Geography as your major, just go for it! You will find yourself captivated by how interesting the classes are. In addition, scheduling an advising appointment with Patty Murray (Geography Department Undergraduate Advisor), will definitely set your future up for success.
What else do you enjoy doing outside of school?
I am a huge foodie, so during my spare time I like to learn how to cook new dishes as well as try new restaurants!
Thanks for sharing Julianne!